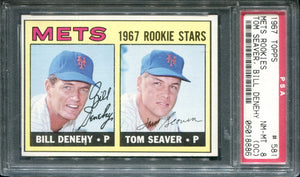 PSA 8 (OC) 1967 Topps #581 Rookie Stars/Bill Denehy RC Tom Seaver RC
George Thomas Seaver (November 17, 1944 – August 31, 2020), nicknamed "Tom Terrific" and "the Franchise", was an American professional baseball pitcher who played 20 seasons in Major League Baseball (MLB). He played for the New York Mets, Cincinnati Reds, Chicago White Sox, and Boston Red Sox from 1967 to 1986. Commonly described as the most iconic player in Mets history, Seaver played a significant role in their victory in the 1969 World Series over the Baltimore Orioles.
With the Mets, Seaver won the National League's (NL) Rookie of the Year Award in 1967, and won three NL Cy Young Awards as the league's best pitcher. He was a 12-time All-Star and ranks as the Mets' all-time leader in wins. During his MLB career, he compiled 311 wins, 3,640 strikeouts, 61 shutouts, a 2.86 earned run average, and he threw a no-hitter in 1978.
In 1992, Seaver was inducted into the Baseball Hall of Fame by the highest percentage of votes ever recorded at the time.[a] Along with Mike Piazza, he is one of two players wearing a New York Mets hat on his plaque in the Hall of Fame. Seaver's No. 41 was retired by the Mets in 1988, and New York City changed the address of Citi Field to 41 Seaver Way in 2019. Seaver is also a member of the New York Mets Hall of Fame and the Cincinnati Reds Hall of Fame.
William Francis Denehy (born March 31, 1946) is an American former professional baseball pitcher and coach. Denehy threw and batted right-handed, stood 6 ft 3 in (1.91 m) tall, and weighed 200 lb (91 kg). He was born in Middletown, Connecticut and attended Middletown Woodrow Wilson High School.
The second-ever Middletown Little League alumnus to play Major League Baseball,[2] he signed with the New York Mets out of high school for a $20,000 bonus[3] and made his professional debut with the Auburn Mets of the New York–Penn League (then Class A) in 1965. He led the league in wins with 13, and the following season won nine of 11 decisions with the Double-A Williamsport Mets of the Eastern League, compiling a stellar 1.97 earned run average. In 1967, Denehy made 15 Major League appearances for the Mets, dropping seven of eight decisions with an ERA of 4.67. The 1967 Mets finished in tenth and last place, the fifth cellar-dwelling team in the expansion club's six-year history.