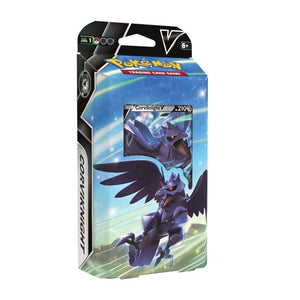 Pokemon Corviknight V Battle Deck
Stir Up a Sky Hurricane—with Corviknight V!
A glimmer of light pierces the blue sky, and a metallic storm of feathers descends as Corviknight V swoops into battle! Join forces with this cunning Pokémon V to envelop your opponent in a swirling Sky Hurricane, and Rewind Time with Dialga to keep Energy in play. Meanwhile, Cobalion, Galarian Perrserker, and Ferrothorn offer backup, while Shauna lets you refresh your hand to keep your strategy going strong!
In this box, you'll find:
1 ready-to-play 60-card deck
3 reference cards
1 rules booklet
Single-player playmat
Damage counters
1 large metallic coin
1 deck box
1 Quick Guide to unlock the strategies within
1 code card to play this deck online
Deck List
Corviknight V ×1
Galarian Perrserker ×3
Galarian Meowth ×4
Ferrothorn ×3
Ferroseed ×4
Dialga ×2
Klefki ×2
Cobalion ×2
Bug Catcher ×2
Cook ×1
Escape Rope ×2
Evolution Incense ×2
Great Ball ×4
Gym Trainer ×2
Hop ×4
Potion ×1
Shauna ×2
Sonia ×1
Metal Energy ×18