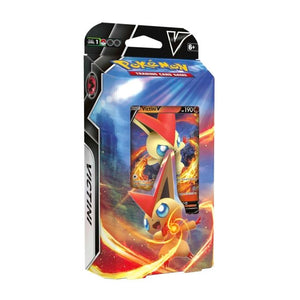 Pokemon Victini V Battle Deck
Burn Strong and Burn Bright—with Victini V!
Get ready to ignite a massive blaze and then keep Victini V well supplied with fuel for the fire! With Chatot picking up some extra Fire Energy and Cinderace grabbing more from the discard pile, you've got a Fire-type deck that knows how to burn quickly and keep the fires hot. Ninetales, Turtonator, and Scorbunny add extra heat to the Victini V Battle Deck!
In this box, you'll find:
1 ready-to-play 60-card deck
3 reference cards
1 rules booklet
Single-player playmat
Damage counters
1 large metallic coin
1 deck box
1 Quick Guide to unlock the strategies within
1 code card to play this deck online
Deck List
Victini V ×1
Cinderace ×2
Raboot ×3
Scorbunny ×3
Ninetales ×2
Vulpix ×3
Turtonator ×1
Cinccino ×1
Minccino ×2
Chatot ×2
Bede ×2
Dan ×2
Evolution Incense ×1
Great Ball ×2
Gym Trainer ×2
Hop ×4
Level Ball ×2
Milo ×2
Professor's Research ×2
Sonia ×1
Switch ×2
Fire Energy ×18