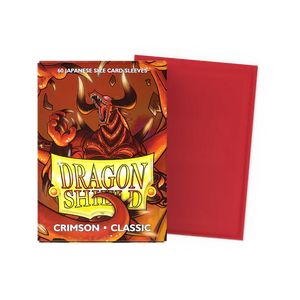 Dragon Shield Sleeves Crimson Classic Japanese 60ct
Crimson, make a statement and play with a fiery passion.
Japanese size card sleeves for cards measuring up to 59x86 mm's (2-5/16"x3-3/8"). Great for TCGs like Yu-Gi-Oh! and Cardfight! Vanguard
The original Dragon Shield Classic texture with glossy backs and a firm shuffle feel. Classic sleeves provide a solid grippy feel when handling cards and shuffling.