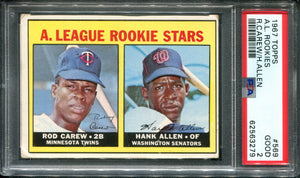 PSA 2 1967 Topps #569 Rookie Stars Rod Carew Hank Allen RC
Rodney Cline Carew (born October 1, 1945) is a Panamanian former professional baseball player and coach. He played in Major League Baseball (MLB) as a first baseman, second baseman and designated hitter from 1967 to 1985 for the Minnesota Twins and the California Angels. The most accomplished contact hitter in Twins history, he won the 1977 AL Most Valuable Player Award, setting a Twins record with a .388 batting average. Carew appeared in 18 straight All-Star Games and led the AL in hits three times, with his 239 hits in 1977 being the twelfth most in a season at the time. He won seven AL batting titles, the second most AL batting titles in history behind Ty Cobb, and on July 12, 2016, the AL batting title was renamed to the Rod Carew American League batting title.
In 1977, Carew was named the recipient of the prestigious Roberto Clemente Award for his involvement in local community affairs. On August 4, 1985, he became the 16th member of the 3,000 hit club with a single to left field off Frank Viola. His 3,053 hits are 27th all time, and his career batting average of .328 is 34th all time. He was elected to the National Baseball Hall of Fame in 1991 in his first year of eligibility; he appeared on upwards of 90 percent of the ballots. He was also elected to the Caribbean Baseball Hall of Fame, Minnesota Twins Hall of Fame, and Angels Hall of Fame. After retiring as a player, Carew served as a coach for the Angels and the Milwaukee Brewers.
Harold Andrew "Hank" Allen (born July 23, 1940) is an American former professional baseball player who appeared in Major League Baseball, primarily as an outfielder, for the Washington Senators (1966–1970), Milwaukee Brewers (1970) and Chicago White Sox (1972–1973). Born in Wampum, Pennsylvania, Allen threw and batted right-handed, stood 6 feet (1.8 m) tall and weighed 190 pounds (86 kg). He is the elder brother of Dick Allen, a seven-time All-Star, 1964 National League Rookie of the Year and 1972 American League Most Valuable Player, and Ron Allen, who had a brief MLB career. As of September 2006, the Allen brothers ranked 11th in the MLB brother-combination, home run list with 358 dingers (out of more than 350 combinations all-time).
Like his brothers, Hank Allen signed his first pro contract with the Philadelphia Phillies, but after five years (1960–1964) in the Phillie farm system his contract was sold to the Senators in January 1965. In his first taste of big-league service, in September 1966, he posted a torrid .387 batting average, with 12 hits in 31 at bats. But he was never able to win a regular job. In his Major League career, he also played third base, second base, and first base, and even made one appearance as a catcher. As an outfielder, he was just fair defensively, making 16 errors in 374 total chances for a .957 fielding percentage. His most productive full season came in 1969 for the Senators, when he posted career highs in batting average (.277), runs (42), hits (75) and RBI (17). He was dealt along with minor-league infielder John Ryan from the Brewers to the Atlanta Braves for Bob Tillman at the Winter Meetings on December 2, 1970. He spent parts of the 1968 and 1970 seasons, and all of 1971, in the minor leagues. He was a teammate of Dick Allen's on the 1972 and 1973 White Sox.
In his seven-season big-league career, Allen was a .241 hitter with 6 home runs, 57 RBI, and 104 runs in 389 games played. Allen led several leagues in his time, including the Pioneer League in RBIs (140) and batting average (.346), the Pacific Coast League with 288 total bases while playing for the Hawaii Islanders in 1966, and tied for the league lead in hits (176) and home runs (37) while playing for the Magic Valley Cowboys in 1962.