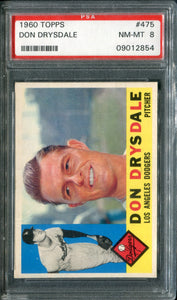 PSA 8 1960 Topps #475 Don Drysdale
Donald Scott Drysdale (July 23, 1936 – July 3, 1993), nicknamed "Big D", was an American professional baseball pitcher and broadcaster who played in Major League Baseball. He spent his entire 14-year career with the Brooklyn/Los Angeles Dodgers. Known for being a fierce competitor, Drysdale won the Cy Young Award in 1962 and was a three-time World Series champion during his playing career.
Born in Van Nuys, California, Drysdale made his major league debut in 1956. He quickly made a reputation for himself as a brushback pitcher who was not afraid to pitch inside to batters in order to keep them off balance. Often overshadowed by teammate and Dodgers ace Sandy Koufax, Drysdale was a dominant pitcher in his own right, winning the Cy Young Award in 1962 and setting a record six consecutive shutouts and 58+2⁄3 consecutive scoreless innings in 1968.
Drysdale was inducted into the Baseball Hall of Fame in 1984 and, the same year, had his number 53 retired by the Los Angeles Dodgers. After his playing career ended in 1969, Drysdale became a radio and television broadcaster until his sudden death from a heart attack in 1993.