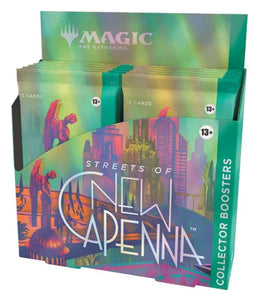 MTG Streets of New Capenna Collector Booster Box
Street Date: 4/29/22
***Does not include a Buy-A-Box Promo
12 Packs per Box, 20 Cards per pack.   
The set takes place on a yet undisclosed place in the Art Deco Noir metropolis of New Capenna, a city that has both grit and glamour. It is a place built by angels but now ruled by five demon crime families battling for supremacy. It is a city important to the planeswalker Elspeth Tirel. Ob Nixilis is seemingly involved with one of the crime families.
Magic Collector Boosters are booster packs targeted at collectors. Unlike Draft Boosters, which optimize the Draft experience with a lot of repetition and a huge number of commons, Collector Boosters are maximized for more diversity in content, with more rares, foils, extended art, borderless planeswalkers, and showcase cards.
 Pre-Order Policy 
There will be No Cancellations or Refunds for Pre Orders. 
Pre-Order this item and it will ship on the manufacturer release date. (Estimated release date is posted in the item description.)

Manufacturer release dates are subject to change and are beyond our control. We will update any changes as quickly as possible.

In cases where weather or production issues impact delivery of product, your item(s) will ship immediately upon receipt.

Cancelled Pre-Orders will not receive a refund without expressed written consent at time of order and are subject to a 15% minimum restocking fee.
By purchasing you agree to the Northwest Sportscards Pre-Order Policy.
---
We Also Recommend