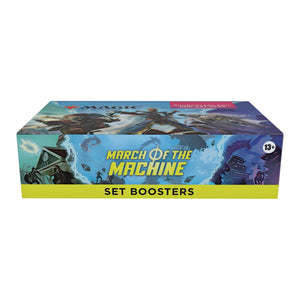 MTG March of the Machine Set Booster Display Box **LIVE**
30 packs per Box. 12 Cards per Pack.
Product Details
The March of the Machine Set Booster Box contains 30 March of the Machine Set Boosters. Each Set Booster contains 12 Magic cards, 1 Art Card, and 1 token/ad card, Helper card, or card from "The List" (a special card from Magic's history—found in 25% of packs).
Every pack includes a combination of 1–5 card(s) of rarity Rare or higher, and 3–8 Uncommon, 2–7 Common, and 1 Land cards. 1 non–Art Card and non–Land card of any rarity is foil. Traditional Foil Borderless Mythic Planeswalker in <1% of boosters. Foil-Stamped Signature Art Card replaces Art Card in 10% of boosters.
Contents:
• 30 March of the Machine Set Boosters—the best MTG boosters to open just for fun
• 12 Magic: The Gathering cards per booster
• 1–5 cards of rarity Rare or higher in every pack
• Traditional Foil card and Art Card in every pack
• Battle the Machine Legion as Phyrexians invade planes across the Multiverse
Pre-Order Policy 
There will be No Cancellations or Refunds for Pre Orders. 
Pre-Order this item and it will ship on the manufacturer's release date. (Estimated release date is posted in the item description.)
Manufacturer release dates are subject to change and are beyond our control. We will update any changes as quickly as possible.
In cases where weather or production issues impact the delivery of the product, your item(s) will ship immediately upon receipt.
Please note that any dates found on advertising photos may not be accurate
By purchasing you agree to the Northwest Sportscards Pre-Order Policy.
---
We Also Recommend