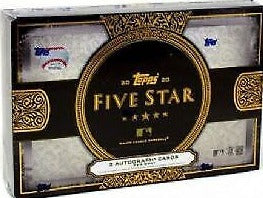 2020 Topps Five Star Baseball Hobby Box
Configuration: 8 boxes per case. 1 pack per box. 2 cards per pack.
Every card in this world-class set features an on-card autograph from one of the best players of MLB.
Case hits include metallic ink autographs, Autographed Jumbo Patch Cards, Dual-Subject Pentamerous Penmanship cards, and more!
Each pack contains two on-card autograph cards, unless replaced by a rare Cut Signature Card.
5 star
---
We Also Recommend