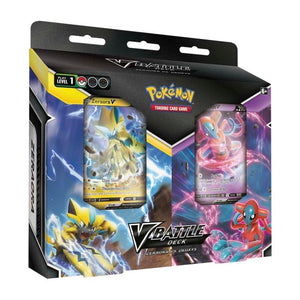 Pokemon V Battle Deck Zeraora vs. Deoxys Bundle
Two Strong Pokémon V Stand Ready!
Get ready for a major Pokémon battle with a ready-to-play double deck bundle—with extra Trainer cards! This set includes a deck for you and one for a friend. You can choose either Zeraora V or Deoxys V to lead your team in a heads-up battle against another Trainer. Then, switch up the decks and see what things look like from the other side—can you win with both powerful Pokémon V?
The Pokémon TCG: V Battle Deck—Zeraora vs. Deoxys includes:
2 ready-to-play V Battle Decks (60 cards each)

Each deck includes a powerful special Pokémon: Zeraora V or Deoxys V!

8 additional Trainer cards, including 2 foil cards
2 large metallic coins
2 deck boxes
2 Quick Guides to unlock the strategies within
2 single-player playmats
6 reference cards
Damage counters
1 guide to upgrading your decks
A code card for Pokémon Trading Card Game Live
Zeraora V Deck List
Zeraora V ×1
Luxray ×2
Luxio ×3
Shinx ×4
Heliolisk ×2
Helioptile ×3
Boltund ×2
Yamper ×3
Thundurus ×1
Bug Catcher ×2
Escape Rope ×2
Evolution Incense ×2
Great Ball ×4
Gym Trainer ×2
Hop ×4
Lady ×1
Potion ×1
Shauna ×2
Sonia ×1
Lightning Energy ×18
Deoxys V Deck List
Deoxys V ×1
Gardevoir ×2
Kirlia ×3
Ralts ×4
Claydol ×2
Baltoy ×3
Drifblim ×2
Drifloon ×3
Cresselia ×1
Bug Catcher ×2
Cook ×1
Evolution Incense ×2
Great Ball ×4
Gym Trainer ×2
Hop ×4
Lucky Ice Pop ×1
Shauna ×2
Sonia ×1
Switch Cart ×2
Psychic Energy ×18
Additional Cards Included
Professor's Research (Professor Rowan) (foil) ×2
Boss's Orders (Cyrus) ×2
Friends in Galar ×2
Ultra Ball ×2