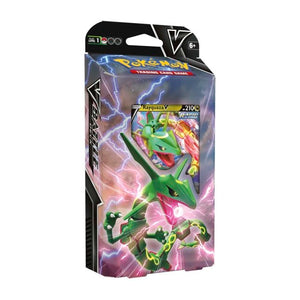 Pokemon Rayquaza V Battle Deck
Swoop from the Sky—with Rayquaza V!
Welcome the return of Dragon types to the Pokémon TCG with this deck led by Rayquaza V! Turn your discards into damage with the star Pokémon's Dragon Pulse and Spiral Burst attacks, dig into your deck for more Energy with the help of Gym Leader Gordie, and combine the powers of Fire and Lightning in the Rayquaza V Battle Deck!
In this box, you'll find:
1 ready-to-play 60-card deck
3 reference cards
1 rules booklet
Single-player playmat
Damage counters
1 large metallic coin
1 deck box
1 Quick Guide to unlock the strategies within
1 code card to play this deck online
Deck List
Rayquaza V ×1
Lanturn ×2
Chinchou ×3
Volcarona ×2
Larvesta ×3
Thundurus ×2
Manectric ×1
Electrike ×2
Simisear ×2
Pansear ×3
Dan ×2
Energy Retrieval ×1
Energy Search ×2
Escape Rope ×2
Evolution Incense ×2
Gordie ×1
Great Ball ×4
Gym Trainer ×2
Hop ×4
Potion ×2
Sonia ×1
Fire Energy ×8
Lightning Energy ×8
---
We Also Recommend