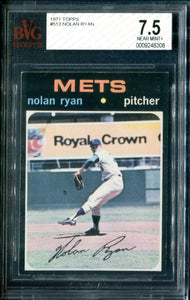 BVG 7.5 1971 Topps #513 Nolan Ryan
Lynn Nolan Ryan Jr. (born January 31, 1947), nicknamed "the Ryan Express", is an American former professional baseball pitcher and sports executive. Over a record 27-year playing career in Major League Baseball (MLB), Ryan pitched for the New York Mets, California Angels, Houston Astros, and Texas Rangers. After his retirement in 1993, Ryan served as chief executive officer (CEO) of the Texas Rangers and an executive advisor to the Houston Astros. He was inducted into the Baseball Hall of Fame in 1999, and is widely considered to be one of the greatest MLB pitchers of all time. Ryan was a right-handed pitcher who consistently threw pitches that were clocked above 100 miles per hour (161 km/h). He maintained this velocity throughout his pitching career. Ryan was also known to throw a devastating 12–6 curveball at exceptional velocity for a breaking ball.
Ryan had a lifetime win–loss record of 324–292 (.526) and was an eight-time All-Star. He has 5,714 career strikeouts, an MLB record[1] that is 839 more than runner-up Randy Johnson. Similarly, Ryan's 2,795 bases on balls lead second-place Steve Carlton by 962 – walking over 50% more hitters than any other pitcher in MLB history. Ryan's lifetime batting average against of .204 is also a major league record. Ryan, Pedro Martínez, Randy Johnson, Trevor Hoffman, and Sandy Koufax are the only five pitchers inducted into the Baseball Hall of Fame who had more strikeouts than innings pitched. Ryan is one of three players in history to have his number retired by at least three teams, along with Jackie Robinson (whose number was retired by Major League Baseball) and Frank Robinson.
Ryan is the all-time leader in no-hitters with seven, three more than any other pitcher. He is tied with Bob Feller for the most one-hitters, with 12. Ryan also pitched 18 two-hitters. Despite this, he never pitched a perfect game, nor did he ever win a Cy Young Award; both were largely attributed to his high walk rate. Ryan is one of only 31 players in baseball history to have appeared in MLB games in four different decades.