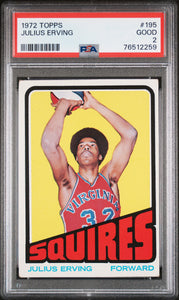 PSA 2 1972-73 Topps #195 Julius Erving RC
 Julius Winfield Erving II (born February 22, 1950), commonly known by the nickname Dr. J, is an American former professional basketball player. Erving helped legitimize the American Basketball Association (ABA), and he was the best-known player in that league when it merged into the National Basketball Association (NBA) after the 1975–1976 season.
Erving won three championships, four Most Valuable Player awards, and three scoring titles with the ABA's Virginia Squires and New York Nets (now the NBA's Brooklyn Nets) and the NBA's Philadelphia 76ers. During his 16 seasons as a player, none of his teams ever missed the postseason. He is the eighth-highest scorer in ABA/NBA history with 30,026 points (NBA and ABA combined). He was well known for slam dunking from the free-throw line in Slam Dunk Contests and was the only player voted Most Valuable Player in both the ABA and the NBA. The basketball slang of being posterized was first coined to describe his moves. In 1993, Erving was inducted into the Basketball Hall of Fame. In 1994, Erving was named by Sports Illustrated as one of the 40 most important athletes of all time. In 1996, Erving was honored as one of the league's greatest players of all time by being named to the NBA 50th Anniversary Team. In 2004, he was inducted into the Nassau County Sports Hall of Fame. In October 2021, Erving was again honored as one of the league's greatest players of all time by being named to the NBA 75th Anniversary Team.
Many consider him one of the most talented players in the history of the NBA; he is widely acknowledged as one of the game's best dunkers. While Connie Hawkins, "Jumping" Johnny Green, Elgin Baylor, Jim Pollard, and Gus Johnson performed spectacular dunks before Erving's time, Erving brought the practice into the mainstream. His signature was the slam dunk, since incorporated into the vernacular and basic skill set of the game in the same manner as the crossover dribble and the no look pass. Before Erving, dunking was a practice most commonly used by the big men, usually standing close to the hoop, to show their brutal strength which was seen as style over substance, even unsportsmanlike, by many purists of the game; however, the way Erving utilized the dunk more as a high-percentage shot made at the end of maneuvers generally starting well away from the basket and not necessarily a show of force helped to make the shot an acceptable tactic, especially in trying to avoid a blocked shot.[6] Although the slam dunk is still widely used as a show of power, a method of intimidation, and a way to fire up a team and spectators, Erving demonstrated that there can be great artistry and grace in slamming the ball into the hoop, particularly after a launch several feet from that target.