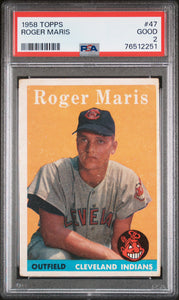 PSA 2 1958 Topps #47 Roger Maris RC
 Roger Eugene Maris (born Maras; September 10, 1934 – December 14, 1985) was an American professional baseball right fielder who played 12 seasons in Major League Baseball (MLB). He is best known for setting a new MLB single-season home run record with 61 home runs in 1961. The record remained unbroken until 1998 and remained the
American League (AL) record until Aaron Judge broke it in 2022.
Maris played in the minor leagues from 1953 to 1956, and made his major league debut for the Cleveland Indians in 1957. He was traded to the Kansas City Athletics during the 1958 season, and to the New York Yankees after the 1959 season. Maris finished his playing career as a member of the St. Louis Cardinals in 1967 and 1968. Maris was an AL All-Star from 1959 through 1962, an AL Most Valuable Player in 1960 and 1961, and an AL Gold Glove Award winner in 1960. Maris appeared in seven World Series; he played for Yankees teams that won the World Series in 1961 and 1962 and for a Cardinals team that won the World Series in 1967.
Maris's home run record was controversial, as the previous single-season home run record (60, set by Babe Ruth in 1927) was set during a period when MLB teams played 154 games per season. Before Maris broke Ruth's record, the AL baseball season had been extended to 162 games. Maris hit his 61st home run in the last game of the season, which led to questions about the legitimacy of his record. In 1998, Mark McGwire set a new MLB record with 70 home runs; the same year Sammy Sosa also surpassed Maris' record with 66 home runs. In 2001, Barry Bonds surpassed that mark with 73 home runs, though all three players used performance-enhancing drugs. Maris' AL single-season home run record stood until 2022, when Aaron Judge hit 62 home runs in a single season for the New York Yankees.