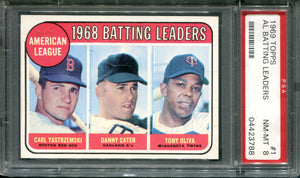 PSA 8 1969 Topps #1 AL Batting Leaders Carl Yastrzemski Danny Cater Tony Oliva
Carl Michael Yastrzemski Sr. (born August 22, 1939), nicknamed "Yaz", is an American former professional baseball player who played his entire career with the Boston Red Sox of Major League Baseball (MLB). He started his career primarily as a left fielder, but also played 33 games as a third baseman. Later in his career, he was mainly a first baseman and designated hitter.
Yastrzemski is an 18-time All-Star, the possessor of seven Gold Gloves, a member of the 3,000 hit club, and the first American League player in that club to also accumulate over 400 home runs. He is second on the all-time list for games played, and third for total at-bats. He is the Red Sox' all-time leader in career RBIs, runs, hits, singles, doubles, total bases, and games played, and is third on the team's list for home runs, behind Ted Williams and David Ortiz. He was elected to the Baseball Hall of Fame in 1989.
In 1967 Yastrzemski achieved a peak in his career, leading the Red Sox to the American League pennant for the first time in over two decades and being voted the 1967 American League MVP. Yastrzemski also won the Triple Crown that year, something not accomplished again in the Major Leagues until Miguel Cabrera did so in 2012.
Danny Anderson Cater (born February 25, 1940) is an American former professional baseball first baseman, third baseman, outfielder, and designated hitter. He signed with the Philadelphia Phillies at the age of 18, on June 8, 1958. Cater played in Major League Baseball (MLB) for the Phillies (1964), Chicago White Sox (1965–1966), Kansas City / Oakland Athletics (1966–1969), New York Yankees (1970–1971), Boston Red Sox (1972–1974), and St. Louis Cardinals (1975).
Tony Pedro Oliva (born Antonio Oliva Lopez Hernandes Javique; July 20, 1938) is a Cuban former professional baseball player and coach. He played his entire career in Major League Baseball as a right fielder and designated hitter for the Minnesota Twins from 1962 to 1976. An eight-time All-Star player, Oliva was an integral member of the Twins teams that won the 1965 American League pennant and two consecutive American League Western Division titles in 1969 and 1970.
Oliva was named the American League (AL) Rookie of the Year in 1964 and won three American League batting championships as well as a Gold Glove Award during his career. Playing in baseball's "second dead-ball era", he was one of the game's best hitters during his first eight seasons. After eight seasons in the majors, Oliva's career was hampered by a series of severe knee injuries, forcing him to become a designated hitter during his final four years in baseball. He retired with a career batting average of .304.
Oliva was inducted into the Minnesota Sports Hall of Fame in 1988 and the Minnesota Twins Hall of Fame in 2000. The Twins retired Oliva's uniform number 6 in 1991. He was inducted into the Baseball Hall of Fame in 2022.