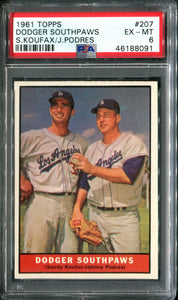 PSA 6 1961 Topps #207 Dodger Southpaws Sandy Koufax Johnny Podres
  Sanford Koufax (born Sanford Braun; December 30, 1935) is an American former baseball pitcher who played 12 seasons in Major League Baseball for the Brooklyn/Los Angeles Dodgers from 1955 to 1966. Widely regarded as one of the greatest pitchers in baseball history, Koufax was the first three-time winner of the Cy Young Award, each time unanimously and the only pitcher to do so when a single award was given for both the leagues, and was also named the National League Most Valuable Player in 1963. Retiring at the age of 30 due to arthritis in his pitching elbow, Koufax was elected to the Baseball Hall of Fame in his first year of eligibility in 1972 at the age of 36, the youngest player ever elected.
Born in Brooklyn, New York, Koufax was primarily a basketball player in his youth and had only pitched a total of twelve games before signing with the Brooklyn Dodgers at age 19. Due to the bonus rule under which he was signed, Koufax never pitched a game in the minor leagues. As a result, the first half of his career was marred with inconsistency and control problems with flashes of brilliance in between. He set a modern record by striking out 18 batters in a game in 1959 and pitched brilliantly in the 1959 World Series. However, the lack of playing time frustrated Koufax and he almost quit after 1960. After making adjustments prior to the 1961 season to improve his control, Koufax quickly rose to become the most dominant pitcher in the major leagues. He was an All-Star in each of his last six seasons, leading the National League (NL) in earned run average each of his last five years, in strikeouts four times, in wins and shutouts three times each, and in winning percentage, innings pitched and complete games twice each. He was the first NL pitcher in 20 years to post an earned run average below 2.00, doing so three times. After setting the modern NL record in 1961 with 269 strikeouts, he became the first pitcher in 17 years and the first left-hander since 1904 to strike out 300 batters, with 306 in 1963. In 1965, he set a then-major league record with 382 strikeouts. He was the first pitcher to record a 300-strikeout season three times. Koufax tied his own record of 18 strikeouts in a game in 1962, and later became the first pitcher to record three immaculate innings.
Koufax won the Major League Triple Crown three times, leading the Dodgers to a pennant in each of those years. He was the first major league pitcher to throw four no-hitters, including a perfect game in 1965. He was named the World Series MVP twice, the first player to do so, leading the weak-hitting Dodgers to titles in 1963 and 1965. At the time of his retirement, Koufax's career earned run average of 2.76 trailed only Whitey Ford among pitchers with at least 2,000 innings pitched since 1925. Despite his comparatively short career, his 2,396 career strikeouts ranked seventh in major league history at the time, trailing only Warren Spahn (2,583) among left-handers; his 40 shutouts were tied for ninth in modern NL history. He was the first pitcher in history to average more than nine strikeouts per nine innings pitched, and the first to allow fewer than seven hits per nine innings pitched. Koufax, along with teammate Don Drysdale, became a pivotal figure in baseball's labor movement when the two staged joint holdout and demanded a fairer contract from the Dodgers. He is also one of the outstanding Jewish athletes in American sports; Koufax's decision not to pitch Game 1 of the 1965 World Series because it fell on the Jewish holiday of Yom Kippur, like Hank Greenberg before him, garnered national attention and made him an icon in the American Jewish community.
Since retiring, Koufax has kept a low profile and makes public appearances on rare occasions. In December 1966, he signed a 10-year contract to work as a broadcaster for NBC; uncomfortable in front of television cameras and with public speaking, he resigned after six years. In 1979, Koufax returned to the Dodgers to work as a pitching coach in the Dodgers' farm system; he resigned from the position in 1990, reportedly due to a strained relationship with Dodgers manager Tommy Lasorda who resented his work with Dodger pitchers. From 2013 to 2015, Koufax worked in an executive position for the Los Angeles Dodgers, as an advisor to owner Mark Walter. In 1999, he was named to the Major League Baseball All-Century Team. His number 32 was retired by the Dodgers in 1972 and he was honored with a statue outside the centerfield plaza of Dodger Stadium in 2022. That same year, Koufax became the first player to mark the 50th anniversary of his election to the Baseball Hall of Fame.
John Joseph Podres (September 30, 1932 – January 13, 2008) was an American left-handed pitcher in Major League Baseball (MLB). He played in the majors from 1953 to 1969, spending most of his career with the Brooklyn / Los Angeles Dodgers. Podres won four World Series titles with the Dodgers. He is best known for pitching a shutout in game 7 of the 1955 World Series to give the Dodgers their first championship.