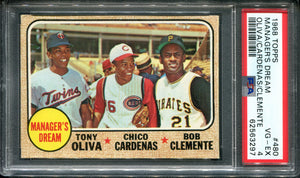 PSA 4 1968 Topps #480 Manager's Dream Tony Oliva Chico Cardenas Roberto Clemente
Roberto Enrique Clemente Walker (August 18, 1934 – December 31, 1972) was a Puerto Rican professional baseball player who played 18 seasons in Major League Baseball (MLB) for the Pittsburgh Pirates, primarily as a right fielder. After his early and sudden death, the National Baseball Hall of Fame changed its rules so that a player who has been dead for at least six months will be eligible for entry. In 1973 Clemente was posthumously inducted, becoming the first Caribbean and the first Latin-American player to be honored in the Hall of Fame.
Clemente was an All-Star for 13 seasons, selected to 15 All-Star Games. He was the National League (NL) Most Valuable Player (MVP) in 1966, the NL batting leader in 1961, 1964, 1965, and 1967, and a Gold Glove Award winner for 12 consecutive seasons from 1961 through 1972. His batting average was over .300 for 13 seasons and he had 3,000 hits during his major league career. He also was a two-time World Series champion. Clemente was the first player from the Caribbean and Latin America to win a World Series as a starting position player (1960), to receive an NL MVP Award (1966), and to receive a World Series MVP Award (1971).
Clemente was involved in charity work in Latin American and Caribbean countries during the off-seasons. He often delivered baseball equipment and food to those in need. In 1972, he died in a plane crash at the age of 38 while en route to deliver aid to victims of the Nicaragua earthquake. The following season, the Pirates retired his uniform number 21, and MLB renamed its annual Commissioner's Award in his honor. Now known as the Roberto Clemente Award, it is given to the player who "best exemplifies the game of baseball, sportsmanship, community involvement and the individual's contribution to his team."
Tony Pedro Oliva (born Antonio Oliva Lopez Hernandes Javique; July 20, 1938) is a Cuban former professional baseball player and coach. He played his entire career in Major League Baseball as a right fielder and designated hitter for the Minnesota Twins from 1962 to 1976. An eight-time All-Star player, Oliva was an integral member of the Twins teams that won the 1965 American League pennant and two consecutive American League Western Division titles in 1969 and 1970.
Oliva was named the American League (AL) Rookie of the Year in 1964 and won three American League batting championships as well as a Gold Glove Award during his career. Playing in baseball's "second dead-ball era", he was one of the game's best hitters during his first eight seasons. After eight seasons in the majors, Oliva's career was hampered by a series of severe knee injuries, forcing him to become a designated hitter during his final four years in baseball. He retired with a career batting average of .304.
Oliva was inducted into the Minnesota Sports Hall of Fame in 1988 and the Minnesota Twins Hall of Fame in 2000. The Twins retired Oliva's uniform number 6 in 1991. He was inducted into the Baseball Hall of Fame in 2022.
Leonardo Lazaro Cárdenas Alfonso (born December 17, 1938) is a Cuban former professional baseball player. He played in Major League Baseball as a shortstop from 1960 to 1975, most prominently as a member of the Cincinnati Reds, where he was the starting shortstop for seven seasons.
 A five-time All-Star, Cárdenas was one of the top defensive shortstops of his era. Nicknamed "Mr. Automatic" because his defensive play was so reliable; he won a Gold Glove Award for his defensive prowess in 1965. His 20 home runs in 1966 set a Reds team record for home runs by a shortstop that stood for 30 years. He also played for the Minnesota Twins, California Angels, Cleveland Indians, and Texas Rangers. Cárdenas was inducted into the Cincinnati Reds Hall of Fame in 1981.