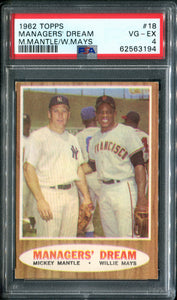 PSA 4 1962 Topps #18 Managers Dream Mickey Mantle Willie Mays
Mickey Charles Mantle (October 20, 1931 – August 13, 1995), nicknamed "the Mick" and "the Commerce Comet", was an American professional baseball player. Mantle played his entire Major League Baseball (MLB) career (1951–1968) with the New York Yankees, primarily as a center fielder. Mantle is regarded by many as being one of the best players and sluggers of all time. He was an American League (AL) Most Valuable Player three times and was inducted into the Baseball Hall of Fame in 1974.
Born in Spavinaw, Oklahoma, Mantle was raised by his father to become a baseball player and was trained early on to become a switch hitter. Despite a career plagued with injuries, beginning with his knee injury in the 1951 World Series, he became one of the greatest offensive threats in baseball history, and was able to hit for both average and power. He is the only player to hit 150 home runs from both sides of the plate. Mantle hit 536 career home runs while batting .300 or more ten times. Mantle is 16th all-time in home runs per at-bat and 17th in on-base percentage.
Mantle won the Triple Crown in 1956, when he led the major leagues in batting average (.353), home runs (52), and runs batted in (RBI) (130). He was an All-Star for 16 seasons, playing in 16 of the 20 All-Star Games that he was selected for. He also had an excellent .984 fielding percentage when playing center field, winning a Gold Glove in that position. Mantle appeared in 12 World Series, winning seven championships, and holds World Series records for the most home runs (18), RBIs (40), extra-base hits (26), runs (42), walks (43), and total bases (123), and he has the highest World Series on-base and slugging percentages.
After retirement, Mantle briefly worked as sports commentator for NBC and later as a part-time coach in the Yankees farm system. Despite being one of the best paid athletes of his era, he was a poor businessman and suffered financial setbacks from business failures. His private life was plagued by tumult and tragedy. His marriage fell apart due to his alcoholism and infidelity, and three of his sons became alcoholics, two of them dying from it. Towards the end of his life, Mantle came to regret his hard lifestyle and the damage he had inflicted on his family. In his final year, Mantle was treated for alcoholism, later warning others of the dangers of hard drinking and telling fans: "Don't be like me." He died from liver cancer brought on by years of alcohol abuse in Dallas, Texas, aged 63.
Willie Howard Mays Jr. (born May 6, 1931), nicknamed "the Say Hey Kid", is an American former center fielder in Major League Baseball (MLB). Regarded as one of the greatest players ever, Mays ranks second behind only Babe Ruth on most all-time lists, including those of The Sporting News and ESPN. Mays played in the National League (NL) between 1951 and 1973 for the New York / San Francisco Giants and New York Mets.
Born in Westfield, Alabama, Mays was an all-around athlete. He joined the Birmingham Black Barons of the Negro American League in 1948, playing with them until the Giants signed him upon his graduation from high school in 1950. He proceeded to win the Rookie of the Year Award in 1951 after hitting 20 home runs to help the Giants win their first pennant in 14 years. In 1954, he won the NL MVP Award, leading the Giants to their last World Series title before their move to the West Coast. His over-the-shoulder catch of a Vic Wertz fly ball in Game 1 of the 1954 World Series is one of the most famous baseball plays of all time. After the Giants moved to San Francisco, Mays went on to win another MVP Award in 1958 and later led the Giants to the 1962 World Series, this time losing to the New York Yankees. He ended his career with a return to New York after a mid-season trade to the New York Mets in 1972, retiring after the team's trip to the 1973 World Series. He served as a coach for the Mets for the rest of the decade, and later rejoined the Giants as a special assistant to the president and general manager.
A 24-time All-Star, tying him for the second most in history, Mays became a perennial MVP candidate, finishing in the top six in the voting in eleven of the next twelve seasons, twice as runner-up in 1958 and 1962. He led the NL in home runs four times and in slugging percentage five times while batting over .300 and posting 100 runs batted in (RBI) ten times each. Mays was also at the forefront of a resurgence of speed as an offensive weapon in the 1950s, leading the league in stolen bases four times, triples three times and runs twice, with his 179 steals during the decade topping the major leagues. He was the first NL player to hit 30 home runs and steal 30 bases in the same season, the first player in history to reach both 300 home runs and 300 stolen bases, and the second player and the first right-handed hitter to hit 600 home runs. Mays also set standards for defensive brilliance, winning 12 consecutive Gold Glove Awards after their creation in 1957, still a record for outfielders; he led NL center fielders in double plays five times and assists three times.
A classic example of a five-tool player, Mays finished his career with a batting average of .302. At the time of his retirement, he held the NL record for career runs scored (2,062), and ranked second in league history behind Stan Musial in games played (2,992), third in at bats (10,881), runs batted in (1,903), total bases (6,066), extra-base hits (1,323) and walks (1,464), fourth in hits (3,283), fifth in slugging percentage (.557), and eighth in doubles (523); his 140 triples ranked fourth among players active after 1945. He holds major league records for games as a center fielder (2,829), putouts as an outfielder (7,095) and extra-inning home runs (22), and ended his career behind only Ty Cobb in total games as an outfielder (2,842) and ranking seventh in assists (188) and third in double plays (59) in center field. Mays was elected to the Baseball Hall of Fame in 1979 in his first year of eligibility, and was named to the Major League Baseball All-Century Team in 1999. President Barack Obama presented him with the Presidential Medal of Freedom in 2015.