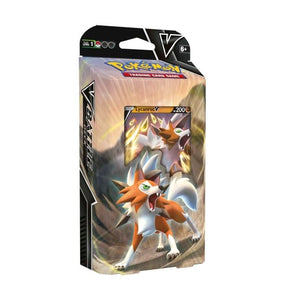 Pokemon Lycanroc V Battle Deck
Crashing Fangs at Dusk—with Lycanroc V!
As daytime turns into dusk, a green flash illuminates the horizon—now it's Lycanroc V's domain! Partner up with this ferocious Pokémon V to deliver a devastating Crashing Fangs attack, and recruit help from Galarian Sirfetch'd, Steelix, and Dugtrio to keep landing those big hits turn after turn. Then, when it's time for a late-night snack, let Cook heal your Active Pokémon so the battle can rage on!
In this box, you'll find:
1 ready-to-play 60-card deck
3 reference cards
1 rules booklet
Single-player playmat
Damage counters
1 large metallic coin
1 deck box
1 Quick Guide to unlock the strategies within
1 code card to play this deck online
Deck List
Lycanroc V ×1
Dugtrio ×3
Diglett ×4
Galarian Sirfetch'd ×3
Galarian Farfetch'd ×4
Steelix ×2
Onix ×2
Sudowoodo ×2
Bug Catcher ×2
Cook ×1
Escape Rope ×2
Evolution Incense ×2
Great Ball ×4
Gym Trainer ×2
Hop ×4
Potion ×1
Shauna ×2
Sonia ×1
Fighting Energy ×18