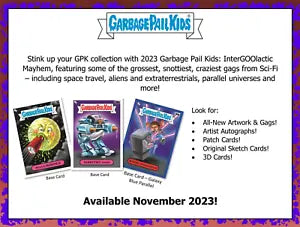 2023 Topps Garbage Pail Kids GPK Series 2 InterGOOlactic Mayhem Hobby Box
This Product will Release Wednesday 11/22/23
Configuration: 8 boxes per case. 24 packs per box. 8 cards per pack.
PRODUCT HIGHLIGHTS
- Stink up your GPK collection with 2023 Garbage Pail Kids: InterGOOlactic Mayhem, featuring some of the grossest, snottiest, craziest gags from Sci-Fi including space travel, aliens and extraterrestrials, parallel universes and more!
- Look for All-New Artwork & Gags, Artist Autographs, Patch Cards, Original Sketch Cards, 3D Cards!
Box Break: 
- 7 Base Cards
- 1 Base Sticker Card Booger Green Parallel
---
We Also Recommend