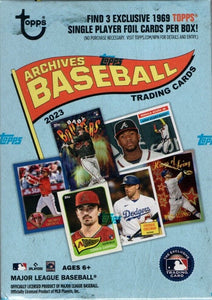 2023 Topps Archives Baseball Blaster Box 24/8
Released Wednesday, November 8th.
Configuration: 7 packs per box. 8 cards per pack.  
PRODUCT HIGHLIGHTS
- Crank up the nostalgia and celebrate the rich legacy of Topps' baseball card designs once again with 2023 Topps Archives!
- Collect the entire 300-card Base Set pulling designs from 1956, 1965, and 2003!
---
We Also Recommend