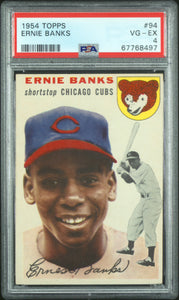 PSA 4 1954 Topps #94 Ernie Banks RC
Ernest Banks (January 31, 1931 – January 23, 2015), nicknamed "Mr. Cub" and "Mr. Sunshine", was an American professional baseball player who starred in Major League Baseball (MLB) as a shortstop and first baseman for the Chicago Cubs between 1953 and 1971. He was inducted into the National Baseball Hall of Fame in 1977, and was named to the Major League Baseball All-Century Team in 1999.
Banks is regarded by some as one of the greatest players of all time. He began playing professional baseball in 1950 with the Kansas City Monarchs in the Negro leagues. He served in the U.S. military for two years, played for the Monarchs again, and began his National League career in September 1953. The following year, Banks was the National League Rookie of the Year runner-up. Beginning in 1955, Banks was a National League (NL) All-Star for 11 seasons, playing in 13 of the 15 All-Star Games held during those years. Banks was the Cubs' main attraction in the late 1950s, the National League Most Valuable Player in 1958 and 1959, and the Cubs' first Gold Glove winner in 1960.
In 1962, Banks became a regular first baseman for the Cubs. Between 1967 and 1971, he was a player-coach. In 1969, through a Chicago Sun-Times fan poll, Cubs fans voted him the greatest Cub ever. In 1970, Banks hit his 500th career home run at Wrigley Field. He retired from playing in 1971, was a coach for the Cubs in 1972, and in 1982 was the team's first player to have his uniform number retired.
Banks was active in the Chicago community during and after his tenure with the Cubs. He founded a charitable organization, became the first black Ford Motor Company dealer in the United States, and made an unsuccessful bid for a local political office. In 2013, Banks was awarded the Presidential Medal of Freedom for his contribution to sports. Banks lived in the Los Angeles and Chicago areas.