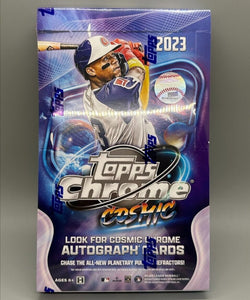 2023 Topps Cosmic Chrome Baseball Hobby Box
Configuration: 12 boxes per case. 20 packs per box. 4 cards per pack.
Sorry. No sealed cases available.
PRODUCT HIGHLIGHTS
- Topps Cosmic Chrome Baseball makes its explosive return with a galactic spin on chrome technology. 
- Collect your favorite superstars with the 200-card Base Set.
- Look for out-of-this-world insert sets such as Launched Into Orbit, Extraterrestrial Talent, and Star Clusters.
- Also search for Supernova and Stellanova short print inserts featuring the top players in the game.
- New for 2023 is the Planetary Pursuit insert chase. Collect the top players in the game with increasingly difficult to discover planet variations based on their distance from the Sun.
- Find 4 Autographs per case!
Box Break:
- 1 Nucleus Refractor
- 2 Additional Parallels
---
We Also Recommend