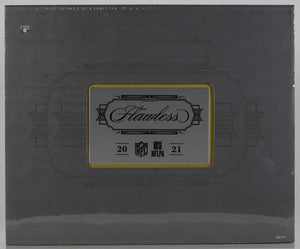 2021 Panini Flawless NFL Football Hobby Box
Configuration: 1 pack per box. 10 cards per pack.
PRODUCT HIGHLIGHTS
- All cards in Flawless are #'d/25 or less and all autographs are on-card or cut autographs.
- Look for 6 on-card autographs, 1 or 2 Gem cards and 2 or 3 Memorabilia cards per box!
- Find new on-card autographed sets with All-Pro Ink, Red White and Blue Booklet Autographs, and Flawless Performances!
- Hunt for on-card Rookie Patch Autographs from all the top rookies including Trevor Lawrence, Justin Fields, Mac Jones, Zach Wilson, and many more!
- Search for the on-card booklet autographs with Rookie Booklets, Veteran Booklets, Signatures Gems, Flawless Duals, and Super Bowl Gems!
BOX BREAK:
- 6 On-Card Autos
- 1 or 2 Gems
- 2 or 3 Memorabilia
---
We Also Recommend